Landscaping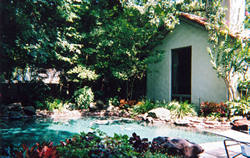 Nan Hall Linke specializes in native plants, drainage and irrigation, tree trimming, decks, shade structures and walkways. Call Nan now for your personal consultation. A consultation fee of $85.00 per hour will be charged. When Nan completes your job, the consultation fee will be credited back to the final invoice. Nan personally supervises every job, no matter the size. For the do it yourselfer who wants ideas, Nan is available on an hourly basis for consultations to make plant suggestions and enhance your existing landscape plan. The hourly consultation fee is $85.
Let Nan turn your yard into a peaceful healing space. Whether you are planning new landscaping or updating your current landscape, Nan will provide a free on site estimate.
Nan has achieved a comprehensive landscape design education from Texas A&M University, Rice University, Stephen F. Austin State University and Urban Harvest. Nan's firm, NH Enterprises, provides services from some of the finest independent contractors in the Houston area.
"Nan has taken our front yard from a 45 year-old dismal boring mess to a wonderful colorful (I had roses blooming at Christmas) exciting display. We've received compliments from all of our neighbors. Nan designed our yard with all native Texas plants with an eye for all of the colors that I preferred. Not only is our yard beautiful but it will also require very little care and water. THANKS Nan!"
Nancy in Briarmeadow
---
I wanted my yard to be "spruced" up and asked Nan to take a look. Her suggestions sounded good but I always have a hard time visualizing the end results. I was sure it would look better when she finished. But - WOW - Nan's landscaping changed the look of our entire house and how we felt! I drive up and not only does our house look like a mansion - the yard gives me a feeling of peace and order and beauty. I am actually sitting every evening in our beautifully created back yard and wondering why I hadn't been able to do this the last 20 years. I couldn't have dreamed up a more pleasurable outcome for our landscaping - I am now a true believer in Nan's statement that your life will feel better when your landscaping fits!
Sue
---
"Nan is our secret gardener. She not only creates great landscapes that can flourish in Houston's weather extremes, but she designs with her client's emotional needs as well! In my case, Nan has worked wonders to screen our home from new house development in the neighborhood by surrounding our house with beauty. Our yard is now a retreat for family and guests from Houston's hustle-bustle and an oasis for birds and butterflies. From the technical issues like irrigation and drainage, to the aesthetic details of plant color and texture choice, Nan has made a reality of our dreams. Her careful on-going maintenance gives us virtually care-free lawn and gardens year round."
Tammie J. Kahn Houston, Texas
---
When I engaged Nan's services 6 years ago I had an acre and a half that had a good base but I wanted to had more definition and color as well as finish out several very large beds. I was very interested in adding more natives, in creating color beds and fern beds; Nan's knowledge is vast. I wanted thick planting, to use a variety of plants and to experiment. Nan threw herself into the project including me in on every decision. We took it in stages, with an overall plan on where we wanted to end up. Nan is a true gardener in every since of the word; she is involved not only with the selection but she is on the job the whole time the plants are going in the ground, she herself planting many of the plants. She gets to know a person's yard thoroughly, understanding where the different eco systems are, is a pro at shade plants and if she is stumped on what to put somewhere her resources are vast.Nan literally painted a picture with the plants; my yard looks like an exquisite painting, inviting you into to its mystique and wonder."
Eliza Duncan
---
"I am really enjoying the flowers we planted late last fall. They are starting to bloom now and filling out my beds beautifully. Thank you for your expertise is selecting just the right plants to go in my gardens. You are truly talented!"
Carol Posey Zieben
---
"Working with Nan is delightful. I love going to the large nurseries, seeing all the glory and picking out plants that suit my yard. It all comes together quickly and her staff is most efficient and friendly. The results are something to be very proud of."
Kathy Herring
---
"I've been thoroughly impressed by your knowledge details of creating a garden, from the creation of the landscaping plan, to selection of plants (and particularly your understanding of what does and doesn't thrive in our strange climate!), to irrigation and maintenance of the garden once it's planted. I appreciate the way you've been willing to listen and incorporate my ideas, and yet come up with great suggestions. Makes the whole process fun! Apparently I'm not the only one that has been pleased with the results; the Bellaire "Garden of the Month" sign is now planted in my front yard!"
Stew Zuckerbrod
---
Home | Basic Information |Upcoming Events | Publicity | Monthly Astrology Updates | Landscaping | Contact
Nan Hall Linke
19 Briar Hollow Lane, Suite 263
Houston, Texas 77027
Email: nan@nanhalllinke.com
Phone: 713-542-7231