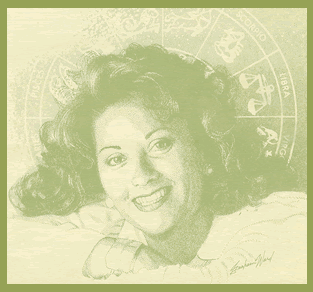 Nan Hall Linke has been featured since 1971 on television, radio and in various magazines and newspapers, explaining her unique approach to astrology. She has been featured on/in the following:
Houston Chronicle
Houston Post
Houston Business Journal
Houston LifeStyle (Magazine)
Town & Country (Magazine)
Houston Metropolitan (Magazine)
Ultra (Magazine)
la Vita (Magazine)
Houston Scene
Texas Monthly (Magazine)
The Arizona Public
This Day With Katherine (TV)
Houston PBS (Channel 8)
Listed below are some of Nan Hall Linke's major predictions throughout her years of business:
Parenting, Life & Love - A one-on-one video interview with Nan Hall Linke about parenting, life and love
Nan Hall Linke Texas Monthly: 2 - 2008 - A one-on-one interview with Nan Hall LInke
Houston Chronicle
Jan. 3, 2006, 1:05AM
'05 was tough, but it's over. The good news is many expect this year to be less stressful.
By TARA DOOLEY
Copyright 2006 Houston Chronicle
In retrospect, 2005 should not have seemed so unpredictable.
After all, the lead-in was a Dec. 26 earthquake and tsunami in Southeast Asia that destroyed entire villages and families.
In August, waters and winds again were destroying lives, but this time closer to home and courtesy of hurricanes Katrina and Rita. As 2005 headed toward a close, an earthquake again struck, leaving parts of Pakistan in shambles just in time for winter cold to descend.
Not all the year's unexpected events were unpleasant.
The silver lining - if there was one - to the natural disasters of 2005 was the outpouring of generosity from nearly every corner of the globe.
Houston baseball fans had a good year. Sure it was a bit of a roller coaster. The Astros turned around a losing season and, after some nail-biting games, brought the World Series to Texas for the first time.
Then the team lost four in a row. Who expected that?
If nothing else, for most of us, 2005 was unpredictable.
Nan Hall Linke, however, was not among the surprised.
For the astrologer and psychotherapist, the year began with the Winter Solstice, Dec. 21, making the tsunami part of 2005's disaster package. And even before the tsunami, Linke was anticipating a year equal in tumult to 1968, the year Martin Luther King Jr. and Bobby Kennedy were assassinated.
"I didn't know what the events were going to be," she says. "I knew it was going to be hurricanes."
Looking ahead to 2006, Linke forecasts some cosmic deep breaths.
Her reasons have something to do with charts and Mars being out of harmony. Or, maybe, back in harmony. The bottom line is that "2006 is a much more peaceful growth process," Linke says. "It is benign years when we catch our breath and get our equilibrium back."
Sports fans will be pleased to know that the Astros "have a stronger astrological picture in 2006 than they did in 2005," Linke says.
Want to know more? Here are a few predictions - of the simple sort - for 2006.
Sports
As director of the vocation office in the Catholic Archdiocese of Galveston-Houston, the Rev. Clint Ressler is a source of spiritual guidance.
But as a sports fan (especially of the Astros), the priest's predictions admittedly are laced with hope.
.The Astros: "Will morph into an offensive juggernaut, re-sign (Roger) Clemens in May and out-race the Cardinals to the National League pennant."
.The Texans: "Things are going to look very different next year, and all of our hopes will begin to be answered."
.New soccer team: "The city will embrace them and get excited about them." Fashion Image and style consultant Cathy Fitzpatrick offers this rule of thumb for the coming year: "Don't jump on the bandwagon just because the fashion dictators say, 'Go there.' " Here are some of her other thoughts for 2006:
.Daisy Dukes are out.
.High-heel flip-flops are out.
.Bag-lady-size handbags are out.
.Platform boots are out.
.Gaucho pants are out, although cropped pants will remain in.
.Talent is in. (This means Paris Hilton may need to learn a skill. Baton twirling, perhaps?)
.Healthy is in. "We have to get over the thin thing," Fitzpatrick says.
Reputations
.In 2005, Men's Fitness Magazine said Houston was the fattest city in America. How about 2006?
No, says Houston city press secretary, Patrick Trahan. But then again, he never bought into the title. Of course, someone took it seriously, because Mayor Bill White did try to get everyone running and biking last year.
"We are predicting that we will not be on the list," Trahan says. "Well, we may be on the list, but we won't be No. 1. We won't even be in the top five."
.If this is, as Linke predicts, the year to take a deep breath, will that air we suck in be any cleaner in 2006?
Yes, Trahan says, pointing to White's clean-air initiatives. "I would say (people) have to work with us to make sure that happens," he says. "They need to make sure they use a few of those deep breaths to speak loudly on the issue."
.How about the traffic?
Oh, there will be traffic, all right. But the Texas Department of Transportation's thinking big in 2006. Some of the department's predictions are enough to make the motorist giddy. Among their boasts: West Loop reconstruction in the Uptown-Galleria area will be completed in February; construction on the main lanes of the West Loop over Interstate 10 will be done before 2006 ends; and the inbound lanes of Spur 527 will open.
And in other news
Here are more of Nan Hall Linke's insights into 2006:
.Scorpios will have a big year. That means that Bill Gates, Condoleezza Rice, Hillary Rodham Clinton and Ted Turner will move it and shake it.
.The economy will remain strong in many sectors, including housing.
.Hurricanes "won't be as bad as they were this past year."
.And the Texans will ... Well, Linke doesn't predict football. Who can blame her?
---
The Ideal Way to Do Business / Entrepreneurs putcountercultural beliefs first, then waited for society to catch up and success to follow
The Houston Chronicle (March 20, 2005)
By: David Kaplan
Presidential Stargazing - President Bush has what? Jupiter on his moon? And he doesn't know? Astrological soothsayers reveal the real differences between George and Dan, Bill and Al
The Houston Post (1992)
By: Randall Patterson
President toppled? Houston astrologist says Bush is out
The Houston Post (1992)
By Derick Rill
Heavens to Nancy! Life's rough, who you gonna call?
The Houston Post
By: Sophie Sartain
Astrology flap makes some voters flop on view of Reagan
One in 6 polled says opinion lowered, may cost Bush votes
The Houston Post (May 18, 1988)
By John Gavois
Soul windows
Houston Chronicle (November 1, 1997)
by Cecile S. Holmes
THE IDEAL WAY TO DO BUSINESS / Entrepreneurs putcountercultural beliefs first, then waited for society to catch up and success to follow
Houston Chronicle (March 20, 2005)
By DAVID KAPLAN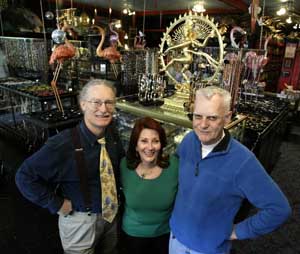 SEEING yogurt for the first time, some visitors to John Fain's store would ask, "Do you really eat that?"
A health food store was a new concept in Houston in 1971.
"They thought it was a passing fad," said Fain, whose first A Moveable Feast was at the corner of Montrose and Westheimer.
But they were wrong. People like Fain were ahead of their time. Unlike the Afro, the Nehru jacket and "groovy," the hippie business ethic has endured.
Some countercultural entrepreneurs may have had to change with the times, and the establishment may have co-opted many of their values.
But at the core, Fain and others have stayed true to their goals of making a better world, avoiding the rat race and offering consumers an alternative to the mainstream market.
Consider local astrologer Nan Hall Linke . In 1971, her field was frowned upon.
"Is that your religion?" people asked scornfully. But that was before the world discovered that Nancy Reagan was helping chart the course of the Free World with the aid of an astrologer.
"The times caught up with us," Linke said. "We don't look so weird anymore."
The same can be said for Carl Carlock, owner of the Bead Shop in Rice Village.
He lived in San Francisco during the Summer of Love, 1967, when flower children handed out love beads.
In 1970, he opened one of the very first bead shops in Houston, and now there are about a dozen such competitors.
Linke and Fain in particular feel like spiritual kin in that they have similar Aquarian ideals.
Recalling her countercultural philosophy to which she still adheres, Linke said, "We were trying to deal with life more like humans - less like machines - and with the belief that all people are connected."
Similar values motivated Fain, who had been inspired by books such as Rachel Carson's Silent Spring and The Whole Earth Catalog.
"The whole idea of being self-sufficient and getting away from the food industry that was relying on pesticides and artificial preservatives and producing food that's not fit to eat - that was a revolutionary idea at the time," Fain said.
Fain and Linke have survived in business partly because their philosophies keep them committed.
Special characteristics
Of course, plenty of non-hippies are passionate about their businesses. But 1960s countercultural entrepreneurs do have unusual traits, said Char Miller, professor of history at Trinity University.
They believed that "small is beautiful," and that the key to economic activity was to focus on the local community, he said.
Their overriding goal was to challenge the status quo through consumerism, Miller said. "The food we ate, the clothes we wore, the cars we drove and bicycles we rode - it was natural versus artificial, and the local as opposed to the global," he said.
If a local community's collection of, say, organic food stores got big enough, "you could eventually influence the national grocery chains," Miller said. "And if you change the corporation, you could change the corporate culture and society."
That didn't happen, Miller said, although the counterculture did have an impact. America's concern over pesticides, preservatives and other potentially harmful ingredients in foods came straight from the 1960s, he said.
Lots of room for ideals
Maurice Isserman, chairman and professor of history at Hamilton College and author of "America Divided: The Civil War of the 1960s" (Oxford University Press), does not believe there was a single hippie philosophy.
Some believed in peace, love and community, he said, while others were about doing their own thing.
Of course, many from the mainstream saw hippies as immoral, especially those who indulged in drugs and sexual promiscuity.
"The counterculture could pull in all directions," Isserman said, but there was a connecting link: "A demand for authenticity, and the feeling that America had gotten away from authentic human values."
Within the rejection of the inauthentic, he said, was a great opportunity for businesses to arise, whether it was a coffeehouse, pizza shop or bead store, "something other than the normal plastic future."
Beaded palace
Bead Shop owner Carlock considers himself less of an idealist than Linke and Fain and said he just likes coming to work.
Linke disagreed. "Carl is dealing with beauty and self-expression because they heal the spirit," she said.
Carlock's 35-year-old bead shop flourishes.
Its flamboyant interior is like a splendid palace, playfully adorned with beaded chandeliers, flamingos perched on shelves, a gilded dancing Shiva and beads from around the world. The place was packed with customers on a recent Saturday.
Carlock taught at Aldine Junior High for four years before moving to San Francisco in 1967, the central place and time of the hippie era.
"The best days of my life," he said.
While living in San Francisco, he decided he'd move to Oregon, "to hang out and be a free spirit." But after his Volkswagen was stolen, he got a sudden impulse to use his insurance money to open a bead store in Houston.
Staying small
When Fain opened his natural food store, which was among the first in Houston, he rode five miles to work on his bicycle because he didn't want to own a car.
A Moveable Feast was one of the first stores in Houston to sell food in a bin, said Fain, who recalled that "the health department freaked out. They didn't know what to do with it."
Some of his first employees opposed capitalism.
"They thought I should sell the product for what I paid for it," he said. "Of course, they expected a paycheck."
In the early days, he had 60 bulk bins to hold organic beans, whole wheat flour and the like, but now he is down to nine. The reason is competition. Today, you can find bulk bins at Fiesta.
Currently operating A Moveable Feast in Hedwig Village where his wife Suzanne Fain is executive chef for the store's restaurant, Fain said he is glad to see healthier food available in more places.
"Everything I wanted to see happen with natural food has happened. Who would ever think a store like Whole Foods would come into being?"
But he never wanted to go national like Whole Foods, Fain said.
Social responsibility
Among countercultural entrepreneurs there is often tension over expansion and the role of profit, said Michael Morris, chair in entrepreneurship and emerging enterprises at Syracuse University's Whitman School of Management.
"Are you not accomplishing more of your philosophical goals if you're growing and reaching more people?" Or do you stay small?
Often, Morris said, it's a trade-off between one's philosophical goals and personal lifestyle.
Ben Cohen and Jerry Greenfield, of Ben & Jerry's Ice Cream, happily grew large. In their case, growth is consistent with social consciousness because of their generous donations to charities, Morris said. The more profit, the more they give to their causes.
"Back in the '70s, my bookkeeper was trying to get me to franchise," Carlock recalled. "I just wasn't interested. In the late '90s, somebody did that with beads and made a bundle, but I don't care. Money doesn't make you happy."
Keeping it alive
Linke launched her astrology practice after working as a secretary at a big law firm in Houston. While at the law office she honed her astrological advising skills by counseling scores of staff, including some partners, for free, she said.
She got fired from the law firm because, she believes, she had recently moved in with her hippie boyfriend and two other families in a dilapidated house downtown.
"My boss who fired me has been my client for more than 20 years," she said.
Linke has a master's degree in behavioral science from the University of Houston, Clear Lake, where her clinical counseling training was in marriage and family therapy.
She helps people spiritually, psychologically and practically, she said, drawing on astrology, street wisdom, Carl Jung and more.
When her astrology practice struggled in the early years, she had an erudite friend with a British accent call a local TV talk show, singing her praises. After Linke got on the show, she had other friends call in to say how good she was.
Today, she markets herself with a Web site, www.nanlinke.com.
Keeping it alive
The 1960s are gone, but younger entrepreneurs with similar values are carrying on the hippie ethic.
Katy resident Julie Ustruck, 31, was once a conservative Memorial area debutante. After her first child's traumatic hospital birth, she "began to question everything." Wanting her children to "feel love from the get-go," she gave birth to her second child at home.
This fall, Ustruck launched earthybabes.com, an online business promoting natural family living. She sells organic cotton baby clothes and diapers, natural healing products, wooden toys and more.
She is also engaging her neighborhood.
"On my street alone, I've inspired people to think outside of mainstream society," she said.
Fain said he is encouraged to see younger generations carrying the countercultural torch.
Noting the 2004 documentary "Super Size Me", made by Morgan Spurlock, Fain said: "Here's a guy who took on McDonald's. It shows that spirit is still alive. People still want to take on the machine."
THE BEAD SHOP Owner: Carl Carlock Age: 60 Year started: 1970 Location: 2476 Times Blvd. Quote: "Many times I didn't think I was going to make it. I did it because it was fun. ... Money doesn't make you happy."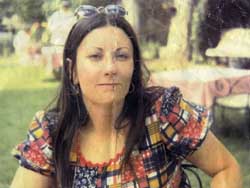 A MOVEABLE FEAST Owner: John Fain Age: 59 Year started: 1971 Location: 9341 Katy Freeway Quote: "The intangible things are what make you happy. Treat your life as if it were a work of art in progress. Try to be at peace with yourself."
ASTROLOGER Owner: Nan Hall Linke Age: 62 Year started: 1971 Location: 1535 West Loop South Quote: "I've never been anti-money. Anything you're resisting is what you're attached to. I just never wanted to struggle with money."
---
Presidential Stargazing - President Bush has what? Jupiter on his moon? And he doesn't know? Astrological soothsayers reveal the real differences between George and Dan, Bill and Al
The Houston Post (1992)
By: Randall Patterson
It is an inextricable fly in the soup: George Bush has Jupiter on his moon, and not even NASA can get it off.
"There's no way he can win," said Nan Hall Linke. "Come January, George Bush is moving out of the White House."
Good heavens! Does the poor man know he has Jupiter on his moon?
No, said Houston astrologer Linke, shaking her head sadly. With a thousand points of light aligned against his reelection, George Bush doesn't have an astrologer, and so doesn't have a clue.
"Reagan was smart," she said. "He used an astrologer and got out OK."
The former president knew what the current one does not - that on good starry soothsayer can best a cabinet-full of goatee-scratching political analysts.
So we gave Linke and Vanity Fair astrologer Michael Lutin the birth dates of the presidential and vice presidential contenders. Their suits look the same, we said, and there is nothing distinctive about their names. Tell us the real differences between George and Dan, Bill and Al.
It is the difference between air and fire, Linke said.
She sat in a fat chair in an office suite she shares with doctors and lawyers on Post Oak Park. As an astrologer and a ritual psychotherapist, Linke claims to have 10,000 clients. And as a predicter of political races, she claims a spotless, 21-year record. Four years ago, she forecast the doom of Michael Dukakis, and last January, before he became the Democratic front-runner, Linke picked Bill Clinton to win it all in 1992.
"There's going to be chaos regardless of who's elected," she said. "But the question is, do you want to take your pain fast and learn quickly, or do you want to postpone it as the Republicans have done?"
The Age of Aquarius has been dawning for 30 years now, and Linke is convinced we're finally coming into high moon. Women will assume more power in the age, she said, and society will accept more readily what cannot be proven. Personally and collectively, people will seek to understand themselves better, taking "a journey to inner space rather than a journey to the bank."
In short, it will be a comfortable time for Republicans.
"In these days," she said, "you can say the Republican Party is not the party of elephants but the party of dinosaurs."
If she sounds like a partisan prophet, Linke insists she's only speaking for the stars. She was a Perot woman herself. He was born under the sign of Cancer, the same sign as the country.
Perot is out of the race, and no one can replace him, but the choice this year remains clear: The race for president is between airheads and hotheads. Bush is a Gemini, and Dan Quayle an Aquarian. Both are air signs.
"They live in the upper world of the head, where life is speculative and dreamlike," Linke said. "They say the right thing but never follow through. They're detached. It's true what everyone says about Bush: He's out of touch."
As air signs, Bush and Quayle are compatible, Linke said, but not necessarily effective. Bush has problems with his moon. Not only is Jupiter on it, but the moon is in Libra, which inclines the president to be indecisive.
And poor Quayle is afflicted by Saturn on his sign. That explains his stumbling tongue, Linke said, the reason "they're always shipping him off to countries where people don't know the language and don't know what he's saying."
Linke opts for the Democrats. Clinton is a Leo and Al Gore an Aries. Both are fire signs, and in those signs, both Clinton and Gore have the sun. That, said the astrologer, means the candidates are egotistical, passionate, intuitive and courageous.
Both men also have their moons in the Earth, which for a politician is a good place for moons to be. It indicates determination, Linke said, that Clinton and Gore will get things done. They're steamrollers, she said, "bulldogs, a bad dream that won't go away. You're not going to hear about the wimp factor anymore."
Gore happens to have his Venus and Taurus on Clinton's moon. This isn't a scandal at all but simply a sign of their great compatibility, Linke said.
"If one were man and one a woman, they'd get married."
She could say nothing negative about the two - nothing, that is, except that the rumors are probably true. In his determination, Gore is probably not a very warm man. And Clinton, well, he probably is susceptible to female flattery. However, in the Age of Aquarius, these faults will be forgiven.
For a brief moment, the planets will smile on Bush. With the Republican National Convention over, Mars and Gemini on his sun are making him look good, sound good and rise in the polls.
But this will change by the middle of October, Linke said, when Bush's "move-out-of -the-White-House aspect" begins to kick in and Clinton enters his "golden boy stage."
And what if none of this proves true?
"Ooh," said Nan Hall Linke, startled by the question, "I'll move to Costa Rica!"
The stars only speak to Michael Lutin in general terms. He has no idea who the next president will be.
"I can't come up with anything," he said. "When you look at the charts, Bush definitely has problems with women this year. It could mean that women are fed up with him, or it could mean that Barbara has kidney stones."
Astrology always leaves specifics to the astrologer, and so Lutin said it always comes with a taste of filter. In this case, the astrologer himself begins with a bad taste in his mouth. Which presidential pair does Lutin prefer?
"That's like asking where I'd rather go - to the dentist or the proctologist," he said. "They both make me groan."
According to Lutin, Gemini George Bush is indeed just word and gesture, "a person who knows how to use the right fork and send a thank-you notes and get the valet to take his care first."
Aquarian Quayle on a bright day might be the voice for unity, but if the clouds drew over, he could also "make Mussolini look like Mother Teresa."
And as Leo, Clinton could be a strong role model, or said Lutin, "he can be more into that hairstyling mousse."
Gore, the Aries, is blessed with dynamic personality. "They always make you buy the car," Lutin said, "but they're not always there when the car breaks down."
As for the age in which these fine men would lead, Lutin agreed it would be a time of change. All times are times of change, but particularly so right now. In late September, Uranus and Neptune will direct people not to tolerate insensitive government any more. At the same time, however, Saturn and Pluto will tell government not to tolerate revolution.
Mixed signals. Uncertain of what to say, Lutin said we are in a time of uncertainty. It's up to the voters, not the stars. Folks may opt for a change, he said, or they may choose the father figure who says everything is all right when it isn't.
"I'm cynical about politics," he said. "We always elect the person we deserve."
---
President toppled? Houston astrologist says Bush is out
The Houston Post (1992)
By Derick Rill
George bush will likely lose his bid to be president a second time. Gov. Ann Richards has a good shot at becoming our nation's first female president. Expect more chaos in Russia.
Those are a few of the predictions of Houston astrologist Nan Hall Linke, who cited the dawning this month of the Aquarian Age as a good sign for Houston.
The Bayou City, which has founded under the dual signs of Gemini and Virgo, faces a much brighter future than the rest of the United States. While the Country will continue to sink deeper into recession, businesses in Houston will do fine.
According to Linke, there is a 60 percent chance that Bush will not win the next election. The Democrats have the candidate with the best astrological background for the political scene - in Arkansas Gov. Bill Clinton. And she said we'll have a woman as either president or vice president within 15 years.
She called Richards the golden girl of the 1990s and said that the sky's the limit - possibly the presidency - for her in politics.
In Russia, Boris Yeltsin will continue to succeed but civil unrest - as in Georgia - will be common throughout the region. Other predictions she made:
Actor Nick Nolte will be screen's top star.
The best months for business this year are September, October, November, January, February and March.
There will be a lot of marriages and fewer divorces.
---
Heavens to Nancy! Life's rough, who you gonna call?
The Houston Post
By: Sophie Sartain
After John Hinckley shot her husband on March 30, 1981, Nancy Reagan was a mess. She couldn't eat or sleep or overcome the fear that someone would try to kill Ronnie again.
She prayed. She cried. She talked to Billy Graham. Nothing helped.
Then her old friend Merv Griffin told her about San Francisco astrologer Joan Quigley. The former first lady called Quigley up and finally found relief.
Forget the Secret Service. This was astronomical.
And now, a year and a half later after an embittered White House Chief of Staff Donald Reagan blew the lid on Nancy's association with an astrologer, the former first lady has come out with her version of the story.
In her just-released book My Turn: The Memoirs of Nancy Reagan (Random House, $21.95), Nancy devotes an entire chapter to her experience with astrology. "What it boils down to," she writes, "is that each person has his own way of coping with trauma and grief, with the pain in life, and astrology was one of mine."
So...what's your sign?
If you're one of nine out of 10 Americans, you know it. Depending on your interest in the stars, you also may know the characteristics generally attributed to you and your zodiacal brothers and sisters and the other zodiac signs that jibe with your sign.
If you ever saw the rock musical Hair, you'll remember the opening song that sent tie-dyed types searching for answers in their natal charts:
"When the moon is in the seventh house - and Jupiter aligns with Mars - then peace will guide the planets - and love will rule the stars."
The Age of Aquarius.
In this age of reason and skepticism, despite its rejection by modern science and orthodox religions, astrology - the age-old study of the stars and planets and their supposed influenced on earth - hasn't lost its mass appeal.
Most major newspapers print a daily horoscope column - a column that is one of the most read parts of the paper. You can find astrology books anywhere from a supermarket checkout stand to the public library.
Crystals and ouija boards may come and go, and many people may frown on astrology as modern witchcraft. Buth there's no doubt about it: Stargazing is her to stay.
Houston astrologer Nan Hall Linke says business is up as a result of Nancy's association with Quigley.
"Nancy is a wise woman," observes Linke, who became involved in astrology 25 years ago and wrote a monthly column for Ultra magazine for seven years. The astrologer claims she counsels a range of professionals including attorneys, businesswomen and artists. A loyal client is restaurant owner Tony Vallone.
"My clientele has become more educated and more professional in the past few years," says Linke. "I seem ore men and less bored old ladies."
---
Astrology flap makes some voters flop on view of Reagan
One in 6 polled says opinion lowered, may cost Bush votes
The Houston Post (May 18, 1988)
By John Gavois
The hubbub over the use of astrology in the White House has caused some loss of face for President Reagan and perhaps some loss of votes for Vice President George Bush, a new Houston Post-Gallup survey shows.
More than one in six voters said their overall opinion of Reagan has diminished in a wake of Donald Reagan's recent revelations about the first lady consulting an astrologer to help plan the president's schedule.
Although 75 percent of more than 1, 200 voters interviewed for the survey nationwide said the astrology controversy hasn't affected their opinion of Reagan, those who said they have changed their views were virtually unanimous in saying they now think less of the president.
Of the 18 percent who said their opinions have changed, only 1 percent said they now have a more favorable view of Reagan. The balance of those polled offered no opinion.
The poll showed the political damage extended in to Reagan's core support group as 11 percent of all Republicans polled said they now look upon the president less favorably.
Because Bush has aligned himself so closely to the outgoing president as the apparent GOP nominee, what's bad for Reagan is bad for him, too said Merle Black, a political science professor at the University of North Carolina.
"The idea of the president's schedule being set in consultation with an astrologiest doesn't sit too well with a lot of people." said Black.
"Astrology is a little flaky to a lot of people. And anything that appears to make Ronald Reagan look flaky or his administration seem out of control tends to indirectly hurt Bush," Black said.
If there's any long-term fallout from the flap for Bush, it's likely to be from conservative Republicans, many of whom believe astrology is "the work of the devil," Black said.
The poll showed that only 12 percent of all voters claim to believe in astrology. A 1978 Gallup poll for the public in general found that 29 percent of adults nationally claimed to believe in astrology.
However, Houston astrologer Nan Hall Linke said it was "ludicrous" to suggest belief in astrology has dropped sharply over the past decade. "In fact, the contrary is true," she contended. "My business is up about 500% since 1978."
Linke said any conclusions about astrology drawn from the poll would be invalid because the 1978 sample group was the public at large and the 1988 sample group included registered voters only.
Nancy Reagan's public stature has suffered as well, the poll showed.
A year ago, around the time she helped to oust Reagan as White House chief of staff, Nancy Reagan enjoyed favorable ratings from 58 percent of the public, while only 23 percent gave her unfavorable marks. Today, her favorable rating is up to 31 percent and her approval rating is down to 53 percent.
Over the same period, the percentage of people who believe Nancy Reagan has too much influence on the president has increased from 32 percent to 43 percent. The proportion of people who said she has more influence on policy than other first ladies had also was up, from 62 percent to 70 percent.
---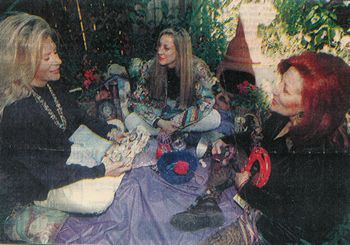 Soul windows
Houston Chronicle (November 1, 1997)
by Cecile S. Holmes
Tall, dark, beautiful and belligerent-looking, Nan Hall Linke's doll is a maiden who became a warrior.
A psychotherapist with spiritual focus, Linke has no trouble imagining such a metamorphosis.
Her interior world is ripe with dreams, symbols, archetypes and adventure. Through leading and teaching group classes in ritual, she helps others to quest: coaxing, encouraging, even goading people to open doors inside themselves.
Like her students, who sometimes return class-after-class, Linke views ritual as a way to transcend reason, access the spiritual and bring change. So she easily accepts the doll's transformation as related by the dollmaker.
The doll reminds Linke of her own journey. She is a guide on a literally purple path of spiritual growth.
That purple path, a thick roll of plastic meant for crafts projects and outdoor tablecloths, sometimes winds through Linke's sun-kissed garden and patio. Tentative pilgrims sit on it. Seekers stalk unnamed goals on it. The weary rest and reflect before starting anew.
But start again they must.
"When people sign up for a ritual class, the thing I always find amazing is that half the people have the same issue," Linke said. "I just put out a sign-up sheet and say, "if you're interested in a ritual class.' Then we have the first class, we start going around the room and everyone says why they've come and its like: Echo, Echo, Me, too. Me, too."
As she teaches, Linke likens ritual to "the soul's thereafter," a longed-for arena freeing the psyche to plumb its depths so the person may intuitively follow where he or she feels led.
Ritual is a "response to the search for meaning," Linke told one class. "It's a reverence for risk, change, surrender, obedience, sacrifice and mystery. It also deals with the possibility of resurrection and grace."
Her perspective is reflected among many contemporary thinkers.
Christian theologians highlight the value of the church's transforming rituals. From the community emphasis of Holy Communion to the joining of two individuals in the marriage service, ritual weaves through church history and practice.
Among Jews, the home-based rituals of such holidays as Passover are enjoying a rebirth as non-observant Jews embrace them with new fervor. Other religions from Hinduism to Islam are experiencing similar rejuvenation.
African-American churches hold rites of passage for young boys to strengthen their sense of responsibility at manhood. Women's groups revamp and rewrite traditional religious ritual to find new meaning in patriarchal traditions. Evangelicals convert to Eastern Orthodox churches, seeking God's mystery and majesty as symbolized in the tradition's worship.
Even people with little or no religious ties are finding new meaning in ritual. In San Francisco and Houston seekers walk labyrinths, reenacting ancient searches. In Philadelphia last weekend, black women marched to affirm their solidarity. There are books on rituals for sacred living, walking for reflection, painting to unlock creativity and meditation to access inner silence.
"At its most intense, ritual leads us into worlds not realized and becomes sacred," British director and writer James Roose-Evans argued in Passages of the Soul, Ritual Today (Element, $19.95).
Writer and lecturer Thomas Moore pondered why people are so enchanted at the prospect of setting out in a canoe, a small rowboat or a great ship in his book, The Re-enchantment of Everyday Life (HarperCollings, $25). "In some deep way, we are living out a ritual that has strong ties to Jesus in the boat with his apostles, the Buddhist on the raft of religion, and Odysseus on his sea voyage home."
In her classes, Linke urges students to appropriate ritual for growth. "It's a process that maintains the integrity of what is sacred in our lives. It's an alchemical vessel change. It's nature's pathway for healing loss and creating wholeness. It's what we call healing play for adults."
Yoga teacher Moira Martin took her first ritual class with Linke seven years ago. Soon afterward, she returned to college to finish her bachelor's and master's degrees. She confronted personal loss when her mother died.
In each instance, ritual was a path to change and freedom.
In classes with Linke, Martin made a compass, a magnet and a clock, emblazoning each with what became holy symbols in her life. Later she made dream pillows, painting haunting faces, abstract images and landscapes on them. She now sells them and makes them for friends.
"Ritual is a way to take you from being stuck into change," Martin said. "A lot of them weave together creativity. I think ritual sort of honors that part of me that hadn't been honored before. It started out as fun, and it started out as play, and it became something much deeper."
Composer and pianist Anita Kruse discovered ritual linked her to her dreamworld, childhood and inner creativity in her first class with Linke five ears ago. In her first class with Linke five years ago. In her first ritual, she sewed multicolored fabric and other items onto a blue jean jacket, creating a ceremonial garment.
"This ritual was about the things I had lost," Kruse said. "There were seven. For each, I got fabric to represent it."
While Martin found ritual helped link her to Irish ancestors, Kruse felt herself recovering something much older, a distinctly feminine sense of the sacred. Reared in a military family, she never felt grounded in a place. Ritual linked her, strengthening her musical skill and creativity.
"It just heightens everything," Kruse said. "It made everything more conscious. A lot of our creative energy is in the dar. Once it's expressed, it is in the light. Until then, it's there. It's waiting. Doing rituals brought everything out of the dark."
Linke, trained in traditional psychotherapy and in the approach of C.G. Jung, teaches that ritual comes naturally to children. They collect things, bury things, throw things up in the air. Work, play, school, even sleeping, may involve ritual for a child. Following natural instincts, a little boy refuses to go to bed without a beloved toy. A little girl insists on wearing a certain outfit on a particular day.
"When I first taught this class years ago, I titled it "The Ritual Process: Healing Play for Adults'," Linke said. "The reason for that is, in childhood, we haven't moved from our healing sensing, intuitive selves into the religion of thinking which we develop when we go to school."
During each four-week ritual class, Linke is amazed at the paths students choose. Many begin with a few symbols of their quests and a hazy idea, or no idea, of where seeking will take them.
Sitting cross-legged on her patio atop part of the purple path, Linke smiles as she recalls the memories.
One student with a number of advanced degrees longed to understand where they might lead her. She laid the degrees in front of her, one after another and used them as a path in her ritual. Another imagined her financial struggles as though she were running a marathon. She tacked money all over her shoes in her ritual.
"I am in awe at what comes out of people, "Linke said. "They make a leap of faith to come to the class. They sit there for three weeks and say, "I don't know what I'm going to do, I don't know what you are talking about.' and I say, 'Just wait.' And they show up on the fourth week with all this stuff and all this energy, and their lives are never the same."
---
Home | Basic Information |Upcoming Events | Publicity | Monthly Astrology Updates | Landscaping | Contact
Nan Hall Linke
19 Briar Hollow Lane, Suite 263
Houston, Texas 77027
Email: nan@nanhalllinke.com
Phone: 713-542-7231